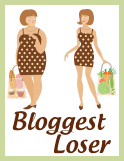 My friend
Hyla
and another brave woman
Kris
have started a blog site called "The Bloggest Loser".
It is to be a place of support and encouragement for bloggers who would like to lose weight (If anyone is like me they spend more time in front of their PC then they do taking care of themselves).And to top it all off it is a contest as well!! I think its a fantastic idea to get real support from other bloggers just like you.To know that you are not alone and have the same struggles as others.Also you do it at home, at your own pace and so that minimizes pressure.You set your own goals.
I will admit that my participation in the group will probably be limited, I am a fluffy woman but have no real desire to lose weight.HOWEVER I would like to get into a more healthy lifestyle and if I lose weight along the way then that is a bonus for me.I also am the type of person who lacks every sense of motivation there is.I am hoping this will help keep me in a healthy state of mind(Fingers crossed).
I know that one or two of you have already made it over there ;) For the rest of you
check it out
!